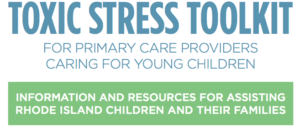 The Rhode Island Department of Health (RIDOH), Bradley Hasbro Children's Research Center, and the Rhode Island Chapter of the American Academy of Pediatrics (RIAAP), have worked closely with experts in child health, infant mental health, and early childhood programs, to:
1.) Develop a guide for primary care pediatricians to identify risk factors for Toxic Stress in young children and their families
2.) Assemble a list of resources available in Rhode Island to support children and families with risk factors for or who are experiencing Toxic Stress
This toolkit includes an overview of the concepts related to Toxic Stress, practical resources to assist the pediatric primary care practice choosing to screen for Toxic Stress, and information about a new online resource directory containing services and supports that can address needs identified through screening.
Toxic Stress Toolkit Executive Summary